Durable consumer goods include items that have a lifespan of over three years and are used repeatedly over a period of time, like household appliances, flooring, and large electronics. Because these items are typically more expensive and purchased infrequently, the consumer durables industry faces higher volatility than non-durable goods. Other factors, like costly manufacturing processes, steep competition, and evolving consumer preferences introduce even more pressure for consumer durables companies to safeguard their business and protect profit margins.
One way they can do so is through an iterative business methodology called continuous improvement.
What Is Continuous Improvement?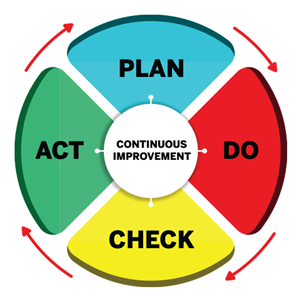 Continuous improvement (CI) is a proactive and ongoing approach to implementing incremental changes in an organization that optimizes efficiency, reduces waste, and improves overall performance. Continuous improvement programs typically follow a "Plan-Do-Check-Act" cycle, a widespread methodology integral to lean management today.
The origins of continuous improvement can be traced back to Japanese car manufacturing in the 1950s. The practice of continuous improvement was the foundation for Toyota's sharp rise from a small carmaker to global automobile manufacturer. Today, the efficacy of continuous improvement has led to its adoption by organizations of all sizes and in dozens of industries worldwide.
Benefits of Continuous Improvement
A culture of continuous improvement in the warehousing and distribution of consumer durables has the ability to completely transform business operations, one small change at a time. With continuous improvement, warehouses can:
Increase operational efficiency

Save thousands of dollars in wasted spend

Save time

Boost productivity

Empower, motivate, and retain employees

Pave the way for innovation and competitive differentiation



Applying Continuous Improvement in 4 Focus Areas
In today's eCommerce world, there is no "silver bullet" or single super-technology that will magically meet your needs. In fact, providers often take a technology stack approach. This includes leveraging integrations with platforms, marketplaces, and retailers that are connected to an OMS (Order Management System), WMS (Warehouse Management System), TMS (Transportation Management System), and LMS (Labor Management System).
The goal of the "stack" is to drive a cost-effective operation that also provides meaningful information to make intelligent data-backed decisions. To give a business the opportunity to sell products in any channel anywhere in the world and to easily push timely order information to customers.

Continuous improvement is a practice that can be applied to nearly any facet of an organization. In the distribution of consumer durables, we've identified four areas where CI can have a transformative impact.
1. Retaining Employees
The U.S. Bureau of Labor Statistics reported a 49% turnover rate for warehouse workers in 2021, making employee retention a priority for warehouses. To further complicate matters, a warehouse workforce for durable consumer goods differs to a great extent from other industries due to the need for highly-skilled workers to operate specialized equipment. Training and onboarding new workers takes a lot of time and investment, meaning productivity can take a hit when there is employee attrition.
2. Optimizing Inventory Storage and Pick Paths
Consumer durables are often heavy and bulky in size, introducing space constraints when it comes to storage and transportation. This becomes an even bigger issue when markets are slow. Demand decreases and inventory grows, leading to unexpected costs, like overflow charges for extra storage or detention and demurrage fees for shipping and transportation delays, that can add up to hundreds of thousands of dollars per month. Applying CI to optimize space can yield substantial savings and improve productivity.
3. Assigning Inbound Doors
Before consumer durables inventory can be stored in its appropriate location, it must first arrive at a warehouse inbound door. As previously mentioned, these warehouses are sizable—sometimes as large as 1.5 million square feet—so if an item arrives at a door far from where it needs to be stored, travel time can increase substantially and hurt productivity.
4. Improving Productivity at the Loading Dock
Hundreds of items per day move from their respective storage locations to loading docks in order to be shipped out to the next location. When loads are delayed, detention fees can accrue and backlogs can occur, which can negatively impact subsequent orders. Warehouse managers need to feel confident that loads are turned around in a timely manner.
Implementing Continuous Improvement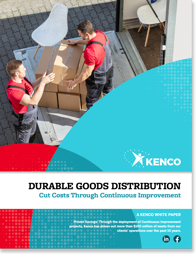 Continuous improvement is a journey, not a destination, and requires the implementation of incremental changes over a period of time. At Kenco, we've designed CI programs that have driven out over $100 million of waste from our clients' operations over the past 10 years.
To learn more about the types of CI programs that Kenco has developed for our customers, download our newest eBook: Implementing Continuous Improvement In Consumer Durables Distribution.