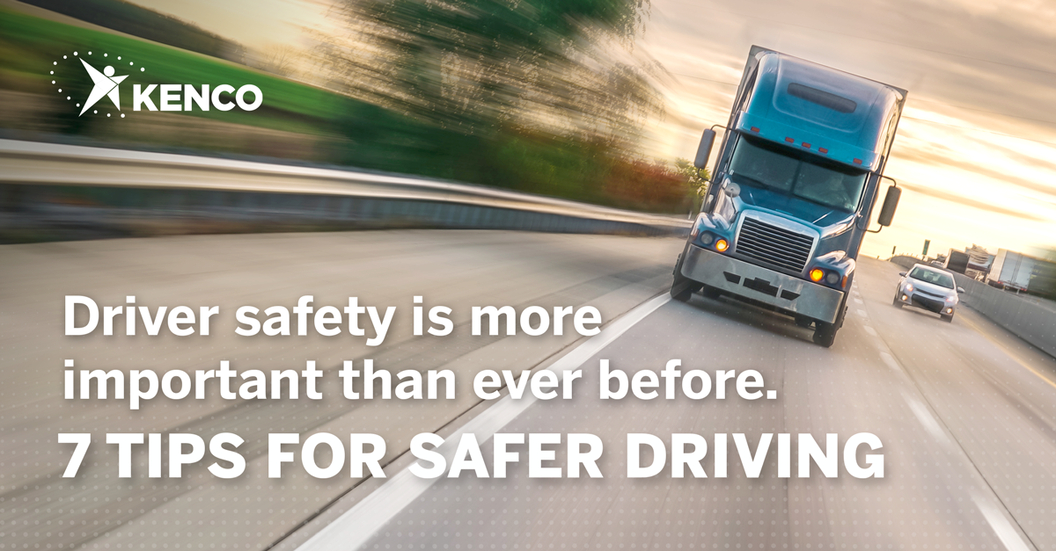 Post-pandemic supply chain issues and the increasing reliance on 2-day or same-day delivery have put a measurable strain on the transportation of goods. To meet consumer demand, more truckers are on the road working longer hours—making driver safety more important than ever before.
From a cost perspective, the expenses incurred due to accidents can be staggering. In 2021, The National Safety Council estimated that the average cost of a truck or car accident is approximately $1.8M in the event of a death and $160,000 for a disabling injury. For commercial motor vehicles, that cost jumps to $5 to $7M for a fatality and $280,000 for an injury.
Safe driving is imperative for the health and well-being of your drivers, as well as for other motorists on the road. In this blog, we share 7 tips for safely operating commercial motor vehicles.
1. Plan Your Route
Knowing your route ahead of time can not only help get you to your destination faster but also alleviate any uncertainty that could lead to anxious driving while on the road.
2. Learn the Smith System's 5 Keys
The Smith System's 5 Keys to driving commercial vehicles is a widely-accepted set of rules created by Harold Smith in 1952 to improve driver safety. One of the five rules encourages drivers to "aim high in steering", focusing their attention high so they can see the whole road, not just a few feet in front of them.
3. Outfit Your Vehicles with Technology
Newer trucking fleets are equipped with the latest advancements in safe driving technology, preventing dozens of potential accidents. One of the most impactful innovations that has come into play is inward and outward-facing cameras that are used for real-time crash mitigation and retrospective coaching.
4. Rest Up and Eat Healthy
Making healthy food and sleep choices can not only keep you focused and alert for your drive in the short term but also benefit your health and well-being in the long term.
5. Wear a Seatbelt
Although seatbelts are mandatory, about 1 in 6 truck and bus drivers in the United States do not wear a seatbelt, according to research studies.
6. Take Breaks When Necessary
Under HOS regulations, drivers of commercial motor vehicles are required to take certain breaks during their route. Drivers must take a 30-minute break when they have driven for a period of 8 cumulative hours.
7. Avoid Distractions
Truck drivers have long stretches of time on the road. Glancing at their cell phones can be an easy temptation. However, it's been noted that drivers who text while driving are 23x more likely to be involved in a crash than those who do not.
Keeping Drivers Safe at Kenco
Driver safety is of the utmost importance at Kenco. As a team, we are driven by one goal: Bring our drivers and associates home safely at the end of the day.
As a result of our efforts, we've received outstanding government safety scores and have been recognized by industry leaders for our safe driving programs. Our trucking safety awards and honors include:
The American Trucking Association's President's Trophy, Under 25 Million Miles category

First Place in the National Truck Safety Contest, General Commodities, Truckload Line-Haul up to 10 Million Miles

Safety Improvement Award and Division Improvement Award in the National Truck Safety Contest

The National Safety Professional Award of Excellence
For more, read our newest white paper, Steering Towards Innovation: Using the Latest Technology to Drive Safety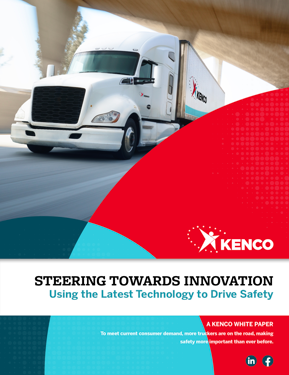 With lives at stake and costs of over $5 million, there is no understating the importance of preventing accidents for our truck drivers. At Kenco, we've created a culture of safety that aligns seamlessly with our focus on innovation. Our team has tested and implemented premium safety innovations to ensure everyone on the road gets home and deliveries are made.
Download the whitepaper to learn the keys to steering toward safety, protecting your drivers, and preventing costly accidents.