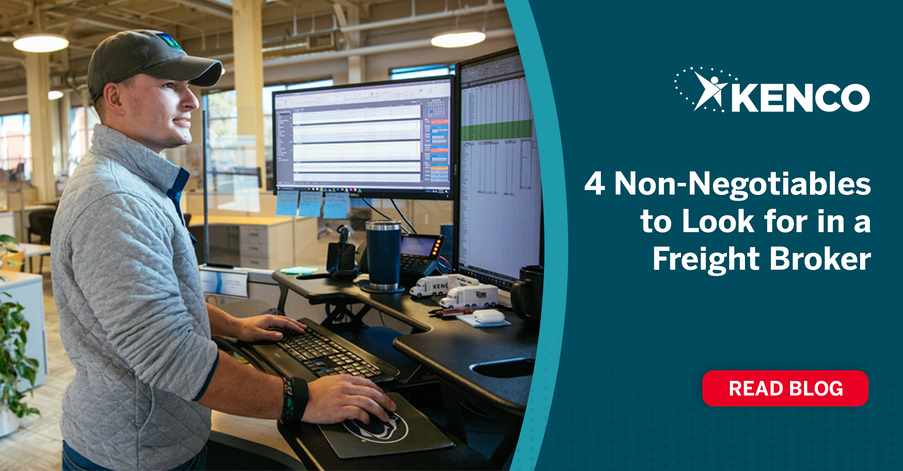 Transportation costs are soaring, and many shippers are leveraging brokerage services as one strategy to help keep costs as low as possible. There are several benefits to working with a freight broker, including improved agility, professional expertise, and access to their network of relationships. In a hyper-competitive landscape, however, there are an abundance of brokerage services to choose from. How can shippers know what broker will be a good fit for their business? Below are four non-negotiables to seek out in a freight broker:
A true strategic partner
The word "partnership" is often tossed around loosely, but a true partnership is two-sided and mutually beneficial to both parties. If a broker is only willing to handle common lanes at the rate and convenience of their choosing, that isn't a real partnership. A quality broker will meet customer needs regardless of the lane and will work to secure capacity at a rate that makes sense for everyone.
A true partner will also serve as a proactive strategist. Brokers should work alongside the customer to determine not just short-term solutions, but long-term strategy. That means not just addressing current needs, but also strategizing based on forecasting volume for a specific lane and proactively taking steps to position for future success.
Availability and communication
If a broker is wavering on their availability and communication from the jump, consider it a red flag. A high-quality broker will be readily available to support the shipper and honor their commitments, regardless of the time of day. A late order from a customer may come across, calling for a quick load tender and an expedited shipment, or a last-minute change to the route might occur; a good broker will always be prepared to handle quick-turn requests, regardless of complexity or lead time, with efficiency and superb communication.
Expertise in all modes of transportation
While there are shippers out there that only need one particular mode of transportation, many utilize various means to get their product from Point A to Point B. Even if using the same mode of transportation, there may be various origin and destination points spanning all across the country. A dry van customer, for example, could have freight that ships via truckload, partial truckload, or LTL, as well as temperature controlled. Some customers may have both van and open deck freight with a combination of legal and over-dimensional. Therefore, it's critical to partner with a broker that knows the ins and outs of all modes of transportation, including air freight, truckload, intermodal, oversize, drayage, and more.
Integrated Solutions
It's important that a broker can offer integrated solutions and not be one-dimensional. Often times, shippers may be looking for more than just transportation needs—they might also want solutions in warehousing, storage, material handling equipment, and more. Being able to leverage a broker with that well-rounded knowledge and capabilities can have positive impact on a shipper's business.
Why Work With a 3PL's Freight Brokerage Services?
While independent freight brokers serve one aspect of transportation, a 3PL is an all-in-one logistics provider offering a wide array of supply chain services. Freight brokerage is just one of the many tools in the 3PL toolbelt, and 3PLs like Kenco serve as a one-stop-shop for shippers.
What sets Kenco apart? Kenco's services utilize a hybrid model based on transparency, accountability, and commitment.
In today's industry, we often see the split model where customers work with a customer service representative, carrier representative, and an operations team. Depending on the nature of the customer's business and needs, having several points of contact could result in delayed communication, and longer turnaround times for solutions. The cradle-to-grave model, on the other hand, has a single point of contact per account managing all aspects of the customer's freight needs. If the volume for a particular customer becomes significant, a dedicated team or Pod can be formed to better service that account.
In Kenco's hybrid model, we maintain the integrity of a cradle-to-grave, single point of contact model, while also having the support of an operations team that is readily available to assist when needed. Through our strategic partner ecosystem, we're able to leverage technology that automates processes for giving shippers additional tracking and tracing transparency in real time.
To learn more or speak to an expert, visit our Freight Brokerage Services page.