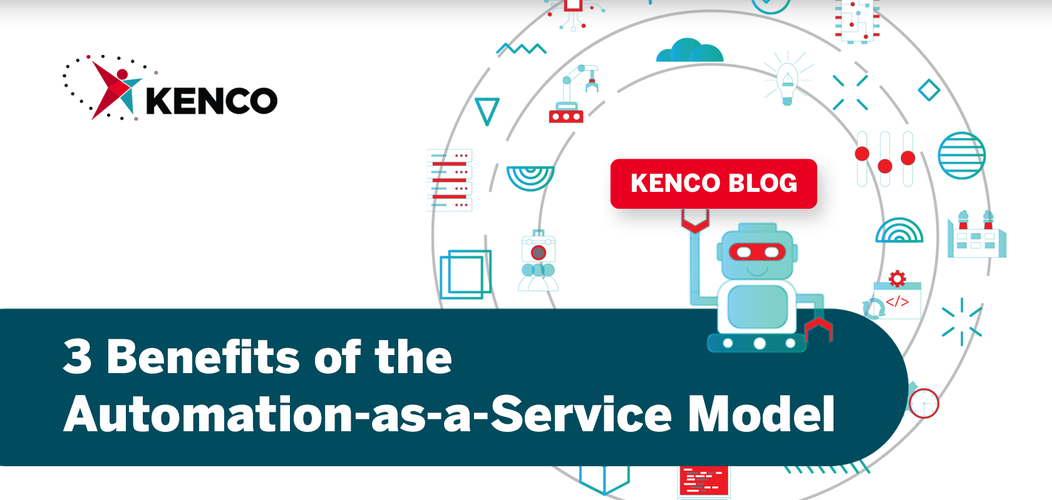 Automation is becoming increasingly prevalent across the supply chain. Amid labor shortages, the return of hard-and-fast SLA deadlines, and rising direct-to-consumer demand, automation is providing shippers with increased confidence and consistency across their operations.
To navigate the era of automation, many shippers are finding value in the Automation-as-a-Service model. Automation-as-a-Service (AaaS) is a service that vendors offer to enterprises seeking to implement large-scale automation projects or scale automation across their organization. The service typically involves the identification of automation use cases and candidates, the development, testing, and deployment of automated solutions, and the provision of production support services.
Below are three benefits shippers gain by leveraging automation-as-a-service:
The Ability to Flex Up and Down as Needed
The automation-as-a-service model allows you to flex up or flex down your robotics fleet as volume dictates.
When peak season rolls around each year, distribution centers are often left scrambling to hire seasonal employees to meet increased demand. In today's scarce labor market, those temporary positions can be nearly impossible to fill. Shippers often have to offer higher wages to stay competitive, and if they're able to find employees at all, they have to invest time and resources into onboarding and training employees they know will be gone by January. It's a cumbersome and expensive process.
With the automation-as-a service model, companies can easily add or reduce automation in the warehouse as volume demands. When peak season hits, for example, shippers can reach out to their robotics vendor and request to be shipped additional bots for a certain amount of time. These additional bots can easily plug-and-play within the warehouse environment and be returned once the shipper no longer needs them. Conversely, traditional models (e.g. ASRS, AutoStore, vertical lift models) are more fixed and require complex infrastructure, making them more costly to scale up and down as needed.
Amid widespread labor shortages, the automation-as-a-service model affords shippers the flexibility needed to increase productivity, save costs, and hit SLAs on time.
Vetted Technology
Operators don't want to be guinea pigs when it comes to trying out new automation. And with an abundance of options on the market, it can be difficult for shippers to know what will be the best fit for their business. Shippers need confidence that the automation they invest in will provide value to the business and ease employees' daily responsibilities.
A benefit of the automation-as-a-service model is that new technologies are already vetted for you. At Kenco, we utilize our Innovation Lab to constantly test and pilot the newest automation solutions for our customers. That way, we know exactly where and how solutions add value and can make strategic technology recommendations. Having a clear understanding of how to implement new automation also streamlines the training and onboarding process for employees, making it much easier for them to hit the ground running and without a lapse in productivity. And if there are problems with the automation, the vendor will work with the shipper to rectify the situation.
Cost Savings with Multi-Client Solutions
In the past, for competitive or visualization reasons, many shippers have been averse to commingling their products with those of other shippers. However, driven by a challenging real estate market, many customers are now becoming more comfortable with leveraging multi-client solutions and sharing distribution center real estate with other businesses.
By having several shippers' products next to one another in a warehouse, the utilization of robots and other types of automation is increased. It's also cheaper for everyone in the long run; If you have a dedicated solution for a particular customer, that customer alone is burdened with the cost. However, if you have several customers co-mingled within the same technology, that overhead can be spread out across multiple beneficiaries.
At Kenco, we've seen this benefit firsthand at our multi-client eCommerce facility. By intermixing customer inventory within the same pod structure, we've been able to increase throughput and utilization while keeping automation costs lower for customers.
The Bottom Line
Automation is helping supply chains augment human labor, drive productivity, and reduce costs. For shippers looking to integrate more automation into their supply chains with a strategic partner, the automation-as-a-service model provides the ability to scale seamlessly, streamline implementation, and realize cost savings.
To learn more or speak to an expert, please visit our Supply Chain Innovation page.