Achieving an optimized transportation network amidst today's mounting supply-chain challenges requires deep visibility and unfettered access to robust industry network data. Technology unlocking access to competitive freight rates, sufficient capacity, and automated workflows is often out of reach for small to mid-sized shippers, leading to higher costs, lower service levels, and ultimately creating a competitive disadvantage – especially when delivering to large retailers with stringent and punitive charge back/penalty programs. This industry need for accessible and affordable solutions is the inspiration behind our latest technology offering, Kenco TMS LITE.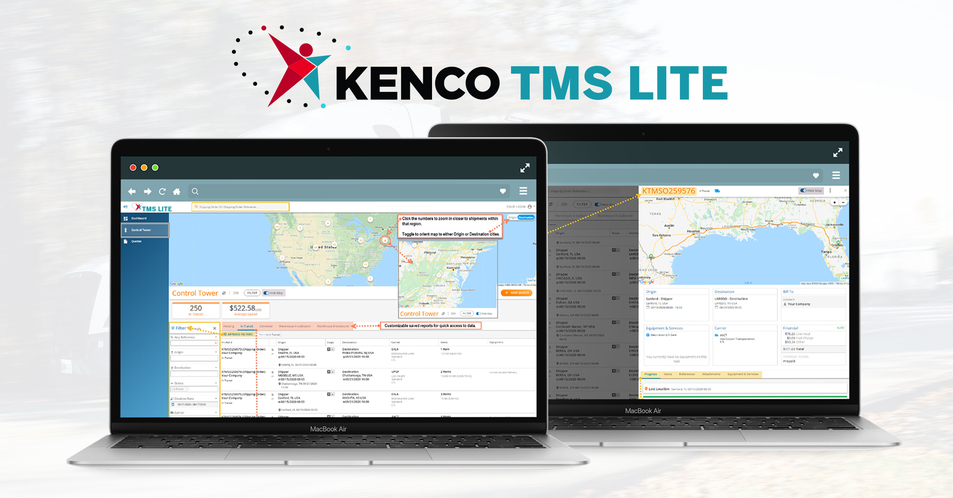 Kenco TMS LITE is an advanced transportation management system (TMS) that empowers small to mid-sized shippers with the technology, resources, and competitive rates they need to effectively manage their transportation networks and drive business success while managing disruptions – all through a single point of contact. Read on for a breakdown of the solution's features and key benefits.


Rapid Deployment allows customers to immediately begin enjoying the benefits of an advanced TMS tool due to a no-integration-needed, user-intuitive implementation process.




Automated Workflows eliminate paper-heavy, time-intensive, and manual processes – like tendering, tracking, invoicing, and more – while increasing accuracy and enhancing customer experiences and satisfaction.

While it may be cliché, "time is money," and shippers bogged down by mountains of paperwork and endless daily logs are missing out on time spent creating efficiencies and adding value to customers through streamlined, enjoyable experiences.



Unmatched Access to Carriers unlocks the buying power of a national third-party logistics (3PL) provider to secure sufficient capacity while reducing freight costs through competitive rates.

Rising spot market rates and their associated volatility will continue to challenge shippers seeking cost-effective options for their loads. Without access to advanced technology and databases decades in the making (7+ in Kenco's case), competing for the right mode at the right time for the right price becomes nearly impossible.


Data-Driven Insights inform real-time decision-making, enabling preventative action against service disruptions for in-transit shipments.

Volatility and disruption are considered the new norms in supply chains, and they're not even necessarily new. From historic weather events and exploding eCommerce volumes, to the COVID-19 pandemic and Suez Canal crisis, shippers and logistics organizations can no longer afford to simply react – they must be able to predict and take preventative action in real-time to mitigate today's disruptions.


As the transportation industry continues to field new challenges from a host of supply chain disruptions, shippers of all sizes can stay well-equipped to compete by leveraging the numerous resources a 3PL can provide. Operational efficiencies and accuracy, reduced freight costs, and increased visibility are all immediate benefits of utilizing an advanced transportation management system.


To learn more about how Kenco can help improve your supply chain performance, visit our Kenco TMS LITE transportation management solutions page.